Happy Friday!! My Friday Favorites is home decor themed since I've been searching up and down etsy for items to decorate our newish home and for a handmade wedding registry.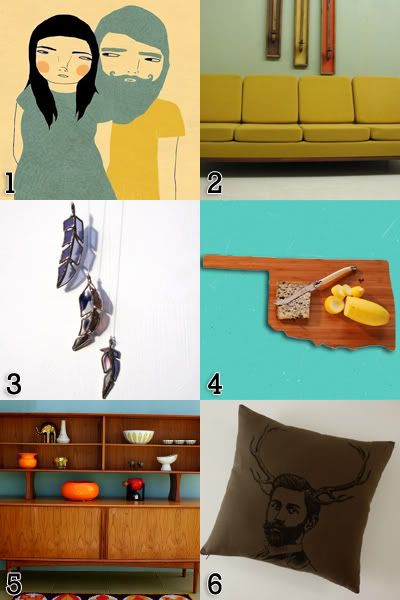 1. I love this print from AshleyG! It reminds me of Riley and I. Plus it's titled A Look Only You Would Understand. Perfect.

2. This Mid-Century Danish Modern Sofa is to die for! The mustard color and wooden legs make me swoon. Now if only I had that money and lived in California.

3. Back in 2008 I won a stained glass butterfly in a giveaway from Pamela Angus. I love it to pieces and that is one of my favorite handmade things I haven't lost in our many moves! I was excited to see she has stained glass feathers in her shop! I need them!

4. Oh Oklahoma, how I love thee! You have such a lovely shape. And now I can get you in cutting board form! The heart on the cutting board is a custom feature and you can get it placed anywhere! Also, they have lots of different states to choose from.

5. Another beautiful piece of furniture I cannot afford but longingly look at. I can dream.

6. I have the dishtowel version of this handsome deer silkscreen but I would like to have him in pillow version too! He kinda looks like Jim Halpert from The Office. I love Jim. And this deer man!

Have a lovely Friday my friends!